Picture...a dragon!
I've loved quirky dragon stories eve since reading Donita K. Paul's
DragonSpell
.
Miniature fainting dragons?

Yep. I'll read books like that.
So, it's not really surprising that we've read a fair number of dragon stories recently. (No, we haven't read Dragons Love Tacos—I know it's the popular dragon book of the moment, but we haven't made it to that section of the library shelf yet.)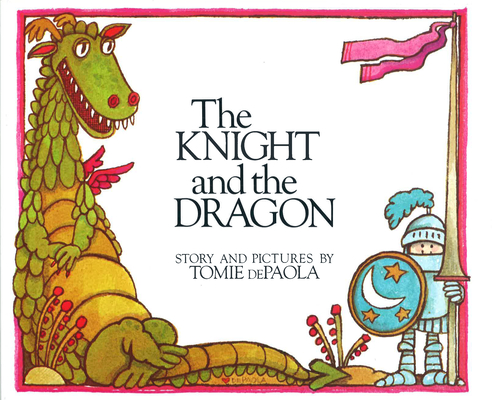 Here are five picture books about dragons, though, that we've read in the past year:
Take one knight who has never fought a dragon. Add one dragon who has never fought a knight. Mix it up with a goofy fairy-tale parody, in a nearly wordless children's book. (Optional: add sound effects to the wordless sections of the story.) My kids love it.
I found dePaola's books back in December. We've only read 3-4 so far, but I love his stories and plan to find more of them. (Bonus recommendation, see
Little Grunt and the Big Egg
.)
The Reluctant Dragon, by Kenneth Grahame (author of Wind in the Willows)
Reading DePaola's The Knight and the Dragon reminded me of this story, so I had to hunt it out again and reread it. I suspect that this story was one of the earliest to include a 'friendly' dragon, with said dragon facing off against Saint George in a dramatic fight (or not). It's more of a chapter book than a picture book, to be honest, but still rather fun. We're just starting to read chapter books, so my preschooler was happy to sit through even a longer story like this.


Incidentally, the version at our library was illustrated by E.H. Shepherd, of
Winnie-the-Pooh
fame
.
When Sir Cumference accidentally turns into a dragon, his son Radius has to make some hasty calculations and solve the secret formula in order to save his father.

We like this story simply as a story—but it hides some creative math terminology in the story that older kids might enjoy as well.
Would you have a pet dragon, if you could? Especially if the dragon would eat your brussel sprouts for you? I mean, a dragon might not always behave himself, but there's always obedience school, if you need a little help.


To be honest, I originally picked this one up because I found the Spanish version. I have a bad habit of reading my kids Spanish books, in the hopes that some of it will stick. (They liked it even in my muddled bilingual version, by the way.)


What can a small earth dragon do, compared with the other, more glorious dragons? A lot, actually—especially when a huge giant comes tromping through her territory.


Most of the stories above are older/classics, but this one is a new release, written and published by an indie author. I'm in a Facebook group with Debbie, which is actually how I heard about this story.
Actually...
...after looking at that list, I think we need to read Bill Peet's How Droofus the Dragon Lost His Head next!
Do you have any favorite dragon stories?